Parking Lot and Concrete Cleaning - American PowerWash Pros LLC
The first thing your customers and clients see when they pull up to your building is your parking lot. It makes a huge difference to have a clean and fresh storefront. It adds an air of professionalism, cleanliness, and organization that will make a great impression on your clients!
With state-of-the-art equipment, an on-board water heater, and high-pressure rig, your concrete and parking lot will come out looking years younger. We can remove debris, a variety of stains, and gum.
Concrete Cleaning
Whether you need your driveway, patio, sidewalk, or parking lot cleaned, American PowerWash Pros LLC provides premiere power washing services to wash away years of buildup. With 100% deep cleaning,
Other Services
Our other services include construction and make ready, exterior building, and maintenance packages. Learn more about each service.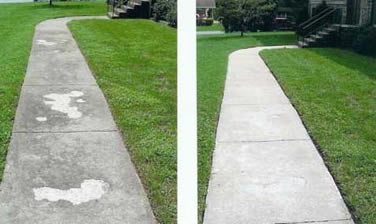 Why Power Wash?
We all know that cleaning is an important part of running a business. Keeping bathrooms clean, lobby's presentable, and office work space is not only a safety issue, but also critical for your company's image. Power washing helps keep your building front presentable for everyone that encounters your office/store/building.
Contact Us
Do you have questions about concrete cleaning or parking lot washing? Contact us today.